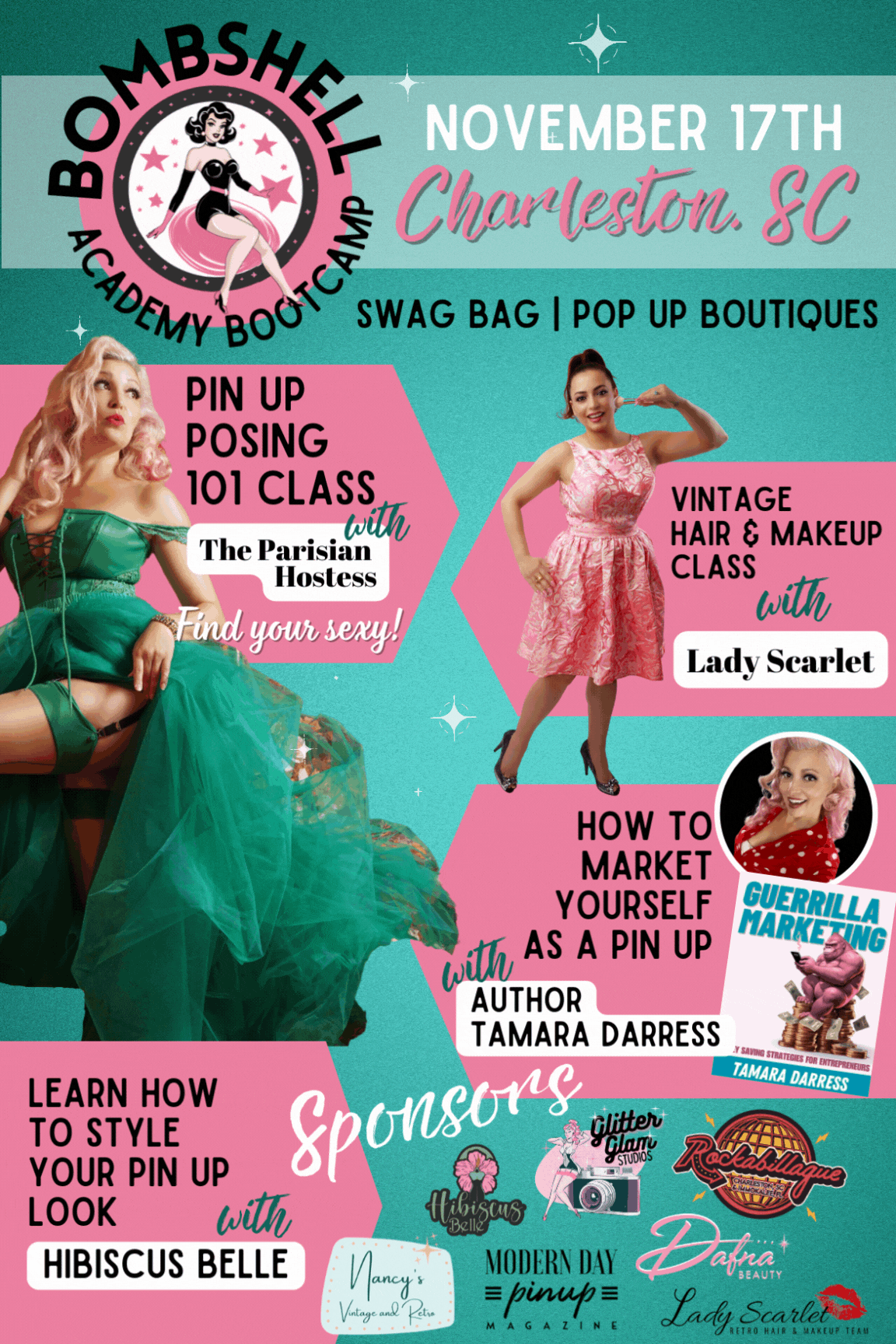 Welcome to our exclusive Bombshell Academy Bootcamp Pin-Up Retreat, where vintage charm and empowering beauty collide for an unforgettable weekend. Get ready to unlock your inner bombshell with a lineup of enchanting activities tailored to the pin-up aficionado in you at Rockabillaque in Charleston, SC, Hosted by Modern Day Pin Up Magazine!
Learn the art of striking poses like a true pin-up star in our Pin-Up Posing Class. Our seasoned instructor, editor of Modern Day Pin Up Magazine, will guide you through the secrets of capturing that perfect pin-up shot. Discover the nuances of body language, unleash your inner sexy, find your signature poses, and exude confidence with every click of the camera. You'll leave with new skills that will showcase your newfound pin-up prowess.
Transform yourself into a vision of retro allure with our Vintage Hair and Makeup Class. Uncover the secrets behind iconic pin-up hairstyles. Our expert stylist, Lady Scarlet, will guide you step by step, ensuring you can recreate these timeless looks at home. Dive into the world of pin-up makeup, mastering the art of winged eyeliner, luscious red lips, and that unmistakable vintage glow.
But it doesn't stop there—we want to empower you to market yourself as a pin-up brand. In our enlightening workshop, by Published Author Tamara Darress, you'll learn the strategies and techniques to promote your pin-up persona authentically. From social media tips to networking advice, we'll equip you with the tools to showcase your unique style and build a supportive community around your pin-up journey.
As a VIP attendee, you'll be treated to an exclusive Swag Bag leaving you feeling like the ultimate pin-up star & shop our Pop Up Boutiques by Nancy's Vintage and Retro and Hibiscus Belle!
Join us for an exciting styling class led by the fabulous Hibiscus Belle. Discover the art of pin-up styling, where it's about more than just clothes and accessories; it's about making a statement. In this class, you'll delve into the intricacies of creating that perfect pin-up look that reflects your personality and captures the timeless charm of the era. Whether it's selecting the right accessories to accentuate your style or perfecting your overall look, this class is your opportunity to unlock the secrets to authentic pin-up fashion and create a style that leaves a lasting impression. Don't miss this chance to elevate your pin-up style game with the guidance of a true expert!
To keep the magic alive beyond the retreat, we've created a supportive forum where you can connect with fellow pin-up lovers. Share your experiences, exchange tips and tricks, and find a community that uplifts and inspires. Our forum provides a safe and welcoming space to continue your pin-up journey long after the retreat has ended.
Don't miss out on this extraordinary opportunity to dive into the enchanting world of pin-up culture. Reserve your spot at our Bombshell Academy Bootcamp Pin-Up Retreat today and prepare for a weekend filled with empowerment, beauty, and camaraderie. Discover the timeless allure of pin-up, embrace your unique style, and unleash your inner bombshell like never before.
The venue will be announced at a later time.
**Refund Policy: All Sales are Final on any products & any Photoshoot, Class or Workshop Booking is non-refundable due to our shoots selling out**Upon purchasing this Event,  you are agreeing to our Non-refundable policy.