Written By: Rockabilly Red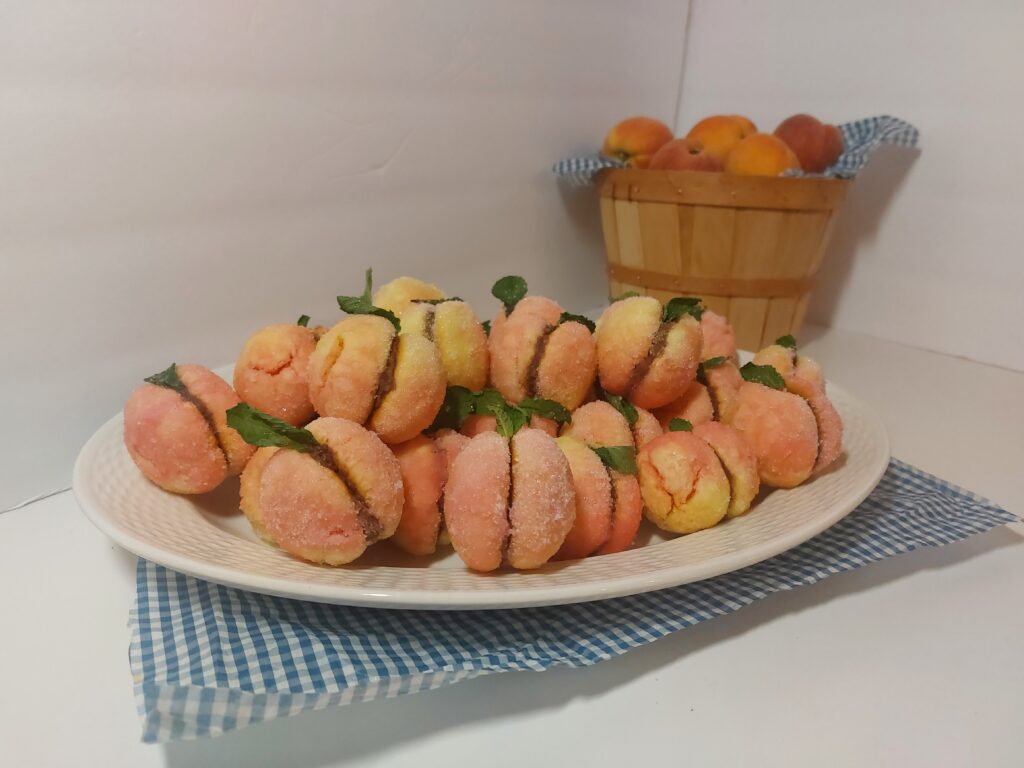 Pesche Dolci (Italian Peach Cookies)
These sweet peach cookies are as cute as a peach! Adorable, stunning, and absolutely tasty, they are sure to be a hit at any party. Bring these to any occasion and your guests will agree that they are peachy keen!
Ingredients:
-Cookies:
1/2 cup butter (softened)
2/3 cup sugar
2 large eggs
1 teaspoon lemon or orange zest
1/4 teaspoon salt
1 teaspoon vanilla extract
1/2 cup milk
4 cups flour
2 teaspoon baking powder
-Filling:
1 cup walnuts (ground)
1/2 cup powdered sugar
1/2 cup butter (softened)
1/2 cup peach preserves or jam
1 teaspoon vanilla extract
1/3 cup cocoa powder
-Decoration:
2 bowls of 2/3 cup milk
1 cup sugar
red and yellow food coloring
mint leaves
Directions:
Preheat oven to 350°F
Prepare the dough by first adding butter and sugar to a large bowl and mixing until it is creamed together. Add eggs, lemon or orange zest (whichever you prefer), salt, and vanilla extract. Mix until combined then add milk, flour, and baking powder and mix until it is all well combined. If the dough is too dry, add a little more milk. It should feel soft and slightly sticky once ready.
Form the cookies using a scoop or spoon then roll into balls. The dough balls should be equal in size. Place on prepared cookie sheet.
Bake the cookies for 15 to 20 minutes. Allow cookies to cool on the baking sheet before transferring to cooling rack.
After the cookies have cooled scoop out a little bit of the middle using a teaspoon, taking from the flat part of the cookie. Save the scooped out pieces and crumble them.
Prepare the Filling and Decorations:
Combine the walnuts, powdered sugar, butter, peach preserves, vanilla extract, cocoa powder, and cookie crumbles. Mix until combined.
Prepare the decoration buy pouring 2/3 cup of milk into a bowl and mixing in red food coloring. Do the same in another bowl but add yellow food coloring instead. Add sugar to a shallow plate for rolling. (If you'd like to add an extra kick to your cookies, they are traditionally made with Alchermes liqueur. This might be hard to find so any peach liqueur with some red food dye or Red Campari can be used. Juice from maraschino cherries can also be used for another non-alcoholic alternative.)
Combine:
Fill each cookie with the prepared filling and spread a bit extra on the bottom. Press two halves together to create the peach shape. Do this with each cookie.
Dip one half of the cookie into the colored milk and the other in the next color. Let them drip off for a moment then roll in the sugar while still a bit wet. Do this with every cookie.
Place a mint leaf in between each cookie to create the peach leaf.
Refrigerate in an air tight container for a few hours or overnight before serving.
Enjoy!